Isabela is the largest province of the Philippines and the largest on the island of Luzon in land area. Its capital is the city of Ilagan. We have our Mengal festival yearly. Where Miss Earth pageant's Resorts Wear and Talent Portion Competition was recently held at my hometown. I am from Echague, Isabela. Yes, I am an Ilokana and I absolutely love pinakbet, inabraw, inatata and most especially native tinola!
Now, let me tour you first before we talk more about our delicacies. Tempting, I know right!
Magat Dam
First of all, Magat Dam. A major source of power and water supply in Northeastern Luzon, and Southeast Asia's biggest hydroelectric dam. It is located at the boundaries of Alfonso Lista, Ifugao and Ramon, Isabela. There is no entrance fee so if you want to breathe fresh air while enjoying the nature, you can come here. In addition to that, you can bring your bike or just stroll when you are with friends. My daughter were so thrilled upon seeing fishermen on their boats that she wanted to ride it there and then. While my Daddy took pleasure in fresh and live fish. He bought kilos of fish back then.
Ilagan Sanctuary
Next destination is the most accessible natural tourist spot in the whole province. Located in a portion of Fuyot Spring National Park that comprises the Northern Sierra Madre National Park. A hike of about 2.5 kilometers from the caves will lead to Pinzal Falls which is the main source of water for the swimming pools right by the picnic areas. The sanctuary also houses several parks and recreation areas including a botanical garden, boating area, a hanging bridge, zip line, fish pond, and a mini-zoo.
Crocodile Sanctuary
Also, we have the Philippine crocodile or bukarot is considered the most threatened crocodilian species in the world due to hunting, destructive fishing and habitat conversion. It was rediscovered in the town of San Mariano in 1999. The crocodile sanctuary protects this special animal by keeping hatchlings in a rearing station before releasing them in the wild 18 months later.
Butaka
In addition we have the butaka. Have you heard of it? It's a reclining lounge with a lengthy back, extended arms found in many homes here. Isabela is the home to the world's largest lounge chair (weighing 2,368 kilos) which was built to promote woodcraft/furniture industry. The gigantic chair measures 9.7 feet wide, 20.8 feet long and 11.4 feet high. Found in a shed at the Freedom Park in Ilagan as a town landmark. Both my parents own a butaka at our house. They had their supplier made a little verison, a customized one for their apo, my daughter Grey. And it's still sturdy. I feel cozy every time I'm at the butaka. I can fall asleep quickly. Likewise, my parents are like my butaka. My security blanket.
Honeymoon Island
Furthermore, as one of the most beautiful beaches in the Philippines with its crystal clear waters teaming with live fishes and corals is a sure haven for sea folks. At around 3:00 in the afternoon, a major low tide affects the area which reveals crazy rock formations, small basins of corals and live fishes. A virgin island that will capture your mind & soul.
<iframe width="560″ height="315″ src="https://www.youtube.com/embed/1LGrvzF8-no" frameborder="0″ allow="accelerometer; autoplay; encrypted-media; gyroscope; picture-in-picture" allowfullscreen></iframe>
Palanan
Moreover, stargazing in the coastal town of Palanan is a definitely a must do. The night sky lits up with billions of lights that you could go on staring at them. Aside from the fact that it has wonderful beaches to offer, too.
Now, lets go to our delicacies!
Seafood
The local tribe of Isabela – the Dumagats, still practice barter trading. You can trade a can of sardines for freshly caught lobsters. Yes, you got it right, lobsters. The Dumagat Tribe is one of the oldest tribes in the country. Dumagat tribe is perhaps the oldest living tribe in the Philippines. I think it would be my privilege and honor to get to mingle with them up close and personal. One day, I will bring my kids to play with them.
Pancit Cabagan
The most popular local specialty to try. It is made of stir-fried, fresh miki noodles with mixed vegetables, quail's eggs and topped with cripy lechon de carajay or fried pork bits. You can try this in many restaurants but locals recommend always Josie's Panciteria & Restaurant in Cabagan, Isabela as serving the best variety. But I found a nearer place at Cauayan, Isabela called Triple J's restaurant.
Aling Luring's Gotohan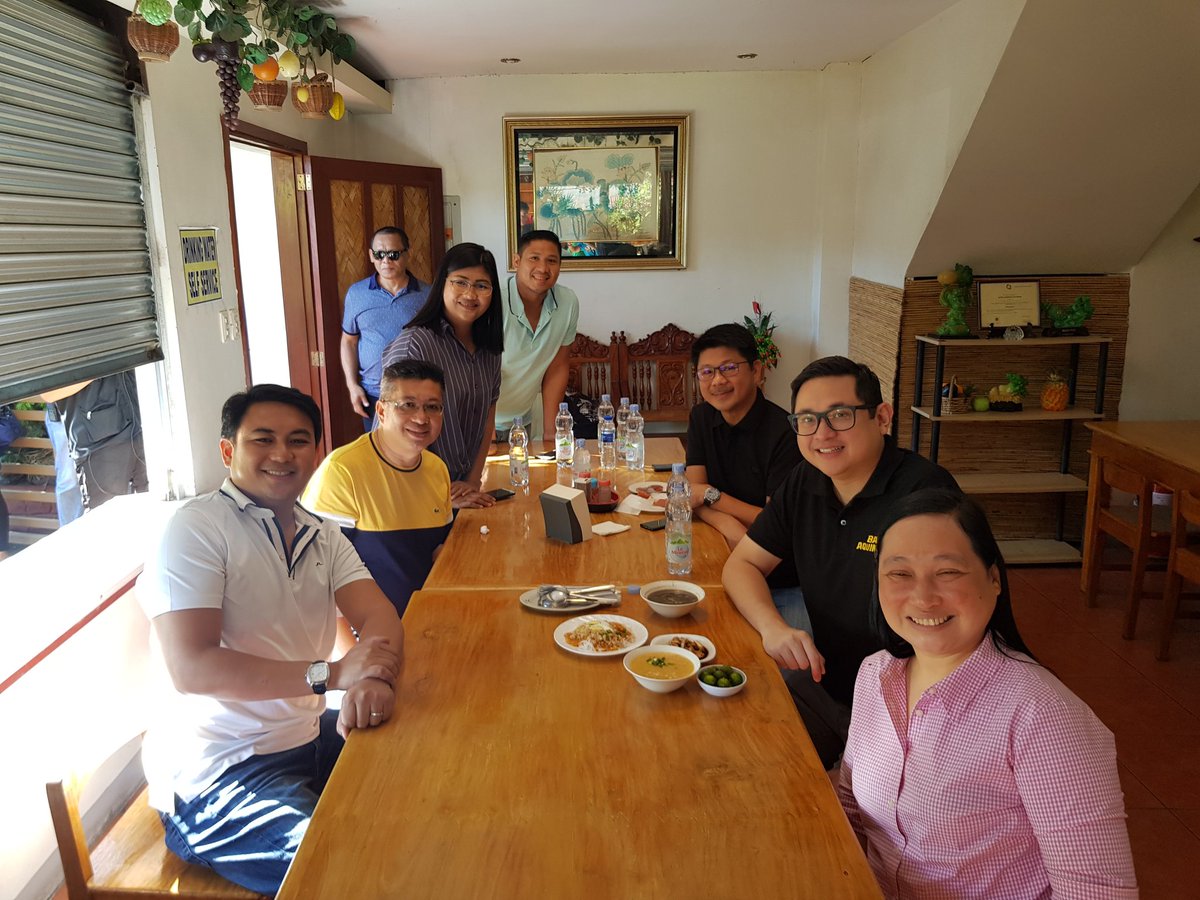 Originated at J.M. Basa st. Concepcion Baliwag, Bulacan. Established in the early 70s by Leonila "Nanay Luring" Castro Trinidad. The concept of a traditional filipino "meryenda" (snack) such as goto- a rice porridge with stewed ox tripe, serkele, palabok, tokwa baboy, lumpiang gulay, chicken arrozcaldo with puto & kutchinta was born and is continually in existence at this place. The family's food business branched out to the far northern part of the Philippines at Cauayan, Isabela in 1985. The concept and the original menu has not been altered since then, with the addition of sweet dessert like biko, sapin sapin, pitchi pitchi, bibingka and the fast rising popularity of the side dish "okoy" with special vinegar for dipping.
Good heathy food that will nourish not just your appetite but also your soul.
Inabraw
Inabraw or dinengdeng is a tasty combination of different fresh vegetables such as jute leaves, bamboo shoots, young corn, patola, eggplant, tomato, okra, malunggay, bitter melon, string beans, squash flowers, and other products with bagoong. This is one of my comfort food. My mom would add malunggay and fried fish, too. Yummy!
Mushroom
Cauayan City  is the "mushroom city of the North." You can find unique dishes made from farm-grown mushrooms here like the mushroom empanada. It's filled with sliced oyster mushrooms and sauce instead of meat. The town's Mushroom Center produces other unique mushroom-based dishes like mushroom pickles, mushroom tempura, mushroom patties, mushroom sisig, mushroom shake – and even mushroom ice cream. I would say, vegetarians will love this.
Inatata & Corn Coffee
Isabela is the rice granary of the North. You can find rice delicacies like tupig and suman in different towns. Inatata is a glutinous rice creamed with coconut milk, sugar and a pinch of salt. The name comes from a combination of the words for mother and father "ina" and "tata" to reflect the labor of love from parents because of the care in which it takes to wrap the rice treats. It looks like ammunition belts of a machine gun but paired with hot choco or hot coffee will make your day.
As a corn capital of Philippines too, Isabela offers variety of corn delicacies. One of which is the corn coffee.  It lacks caffeine so you can consume it anytime of the day. Aside from corn coffee, they also have nachos, corn shake and pastillas that are all made of corn.
Binallay
Another homegrown rice cake is Binallay, made of glutinous rice wrapped in banana leaves. "Balay" means "house". This has religious significance and traditionally served during the Holy Week, to help Isabelinos endure hunger during the fasting period.
Native tinola
I grew up eating my vegetables like malunggay, saluyot, eggplant, sigarilyas, string beans, squash and even bitter gourd. I love my mother's famous tenderly delicious beef steak and her adobo that meat will almost fall on its bone. My all-time favorite is native tinola. Why? Because my father will butcher one of his native chickens then my mother will cook it. See the tandem behind the preparation & cooking? I love the partnership my parents have. That's called labor of love. They are my Yin Yang. So every time I am home, my dad & mom will cook for me. Native tinola tastes no other. Nothing compares to the aroma and invigorating soup. It warms my heart and my stomach is full, too.
Finally, I would like to add the most prominent celebration in Isabela is the Bambanti Festival celebrated every January. Named after the Scarecrow which guards the fields from birds and pests, the Bambanti Festival celebrates the agricultural industry, natural resources, culture and industries of the entire province. This year's festival has got them in Guinness World of records.
I will make another blog about what adventures and where to stay when in Isabela. For now, let's satisfy our hunger.